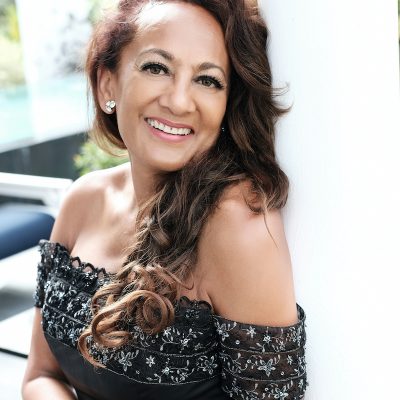 THE BRAINS BEHIND VILLA BEING. SHE IS THE OWNER AND MANAGING DIRECTOR. DR. POON BELIEVES THAT VILLA BEING IS THE 'CURE TO THE COMMON HOLIDAY'
Dr. Auliana Poon heads the Leve-Global Group of Companies (including Tourism Intelligence International, Villa Being, Being Sustainable and the Tourism Intelligence Academy).
Born in the twin-island republic of Trinidad and Tobago, Auliana Poon graduated with a B.A. (hons.) and M.Sc. (Economics) from the University of the West Indies, (Trinidad). She attended one of the leading European Schools, the Science Policy Research Unit at Sussex University (England), where she graduated with a D. Phil. (Tourism & Technology) in 1988.
Dr. Poon is a courageous and passionate businesswoman. She established Tourism Intelligence International in 1990; Villa Being Tobago in 1998; Being Sustainable in 2010; the Tourism Intelligence Academy in 2015; and Lévé – The Event in 2016.
Dr. Poon believes that the Caribbean cannot continue to compete with Sun, Sand and Sea alone. For success and sustainability, the Caribbean needs to be more people-centered, culture-oriented, innovation-based, technology-focused and talent-driven.
Built on her understanding of the global trends in travel and Tourism, Dr. Poon established Villa Being in 1998 as a 'cure' to common holiday. Dr. Poon wanted Villa Being to be more than a mere product or a philosophy. She wanted to develop a truly exceptional holiday experience created by a truly exceptional team. Her idea is to put the guest in charge of the experience and to deliver a perfectly tailor-made experience in an exceptional Tobago environment. The villa takes full advantage of nature, the climate, the sea, the natural ambiance and the local people. This is why Villa Being combines exceptional architecture, nature, scenery and complete privacy.
Sustainability is at the heart of Being. This is why we do not kill or remove the natural inhabitants – this is their planet too! We allow birds to build their nests wherever they want. We even have a small colony of friendly and playful bats living under one of our structures. They are all welcome.
PROPERTY MANAGER AND GUEST COORDINATOR. FROM BOOKING TO ARRIVING TO DEPARTURE, KEVON WILL COORDINATE ALL OF YOUR REQUESTS
Kevon Wilson is the man behind the scenes.  He is the oldest member of the team having worked with us for more than 15 years. Kevon graduated with Honours in Management and Finance from the University of the West Indies. He is also Senior Analyst at Leve Global, our parent company.
He brings international experience and flair to the team having worked on projects all over the world – including Mozambique, The Gambia, Germany, Dominica, Jamaica, Montserrat, Barbados, Antigua, Grenada, Dominica, the USA, the UK and others.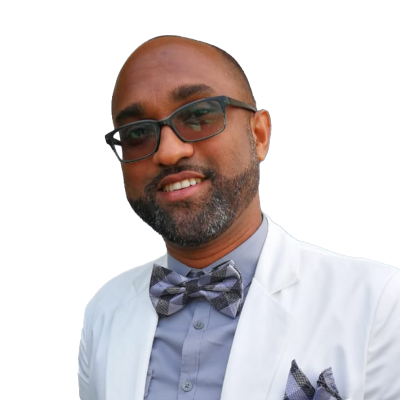 Kevon has a big heart.  He is talented.  He is a writer, analyst, singer and expert communicator.  He's cool, calm and collected.  For Kevon, every problem has a solution.  From booking to check-out, Kevon will ensure that your experience at Being is well organised and most of all, memorable. Whatever your needs, just let him know. He will ensure that our team puts everything in place to accommodate you as best as possible.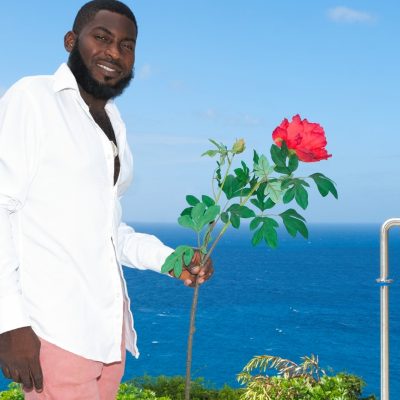 GARDEN AND GUEST NURTURER. LET WADE (A.K.A. CJ) TAKE YOU ON A TOUR OF THE GARDENS.
Wade Caruth, fondly known as CJ, is our Guest & Garden Nurturer. He is truly a son of the soil. Born in Tobago, CJ's first love is gardening. Whether it is planting fruit trees on our 11-acre organic estate, or picking herbs, CJ loves to get his hands in the soil. His background is in organic agriculture. He has been trained at the University of the West Indies, one of the top 50 Universities in the world. He also attended one of the best programmes in India.
CJ's dream is to transform his passion for nature into profits. He's started an agri-business venture and is a member of the Tobago Agricultural Society, where he plans to influence how farming is done in Tobago.
CJ's passions don't end with nature. He's also a very talented musician.  Whether it is Open Mike Sundays, or chilling on the block with his 'brethren', CJ's lyrical prowess can stand up to any singer/songwriter. His conscious lyrics and heartfelt emotions displayed on stage exude a positive energy that dares to change the world and influence the youth of Tobago.
CJ's love for nature, passion for organic and natural farming and his genuine care and concern for others, is a perfect fit with Villa Being where sustainability is at the heart of who we are.
CJ says that working at Villa Being is like "living in a painting".  The vibrant colours of nature married with the exquisite architecture inspires CJ who sees his role as "adding to the masterpiece that is Villa Being".
TAKE YOUR TASTE BUDS TO HIGHER HEIGHTS
Chef Jonathan Michael Jordan, is as passionate about food as he is about health. This is why he has combined these two loves to deliver mouth-watering, exquisite and never-seen-before culinary creations.
Chef Jonathan has talent in leaps and bounds. Jonathan has been one of our resident chefs at Villa Being for some time now and has never disappointed our clients.
Chef Jonathan aptly demonstrates how you can take fresh, humble, local ingredients and elevate them to match any international presentation.
It is safe to say that Jonathan creates true fine-dining and gourmet recipes and experiences that are both healthy and delicious.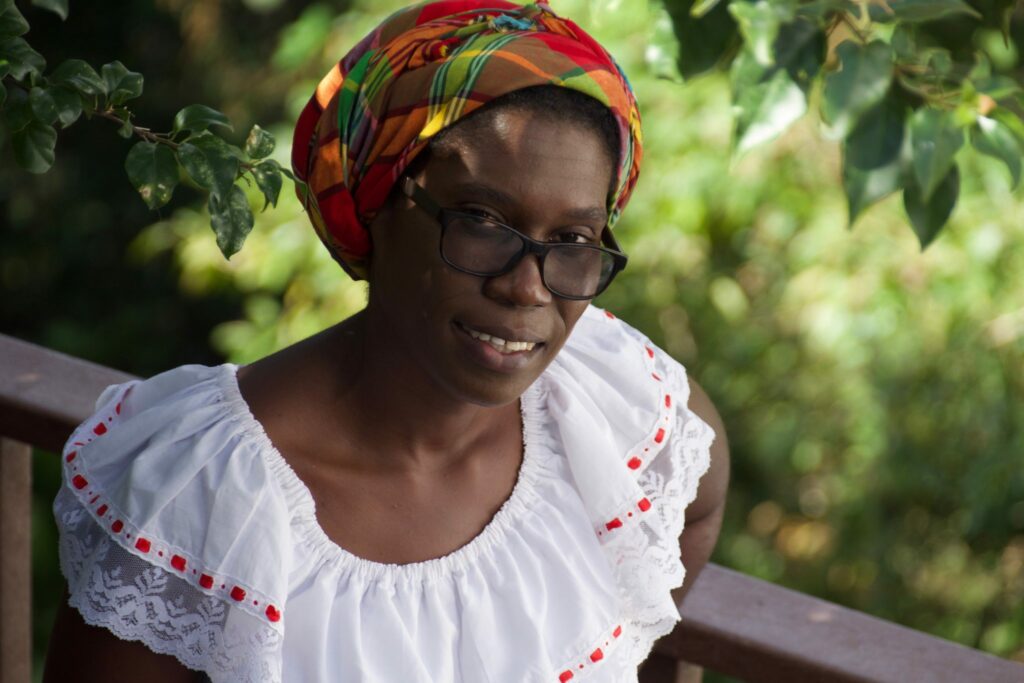 GUEST HAPPINESS COORDINATOR. CARLINA WILL TAKE CARE OF ALL YOUR NEEDS DURING YOUR STAY – HOUSEKEEPING, BREAKFAST AND WHATEVER YOU REQUIRE
Meet our Guest Happiness Coordinator, Carlina Jules-Taylor. Carlina was born in a small village on the Nature Island of Dominica. She now lives in the nearby village of Arnos Vale, a stone's throw away from Villa Being.
Carlina will be taking care of you when you stay at Villa Being.  She will coordinate the provision of daily housekeeping and breakfast each morning. She can provide any other service you may require such as grocery shopping, preparing a special meal or teaching you to make your own bar of chocolate 'from scratch'.
While humble and quiet in nature, Carlina is no ordinary woman. She is a Chemistry graduate from the University of the West Indies, Trinidad, one of the top 50 universities in the world. And she has used her knowledge of chemistry to fuel one of her passions in life – making organic artisan chocolate. Carlina's specialty, hand-made chocolates, are made from organic cocoa beans, using local, traditional methods, but with a twist. She adds her own techniques and infuses her personality to create a unique blend. Have a look at the video below to find out more about Carlina and her specialty chocolates.
Carlina is a great cook too. Ask her about her Couboullon (a local Dominican dish) or saltfish buljol and coconut bake (a local breakfast dish) or her home-made sour dough bread.
Whatever your needs, Carlina is the woman for the job. After all, she's in charge of your happiness when you are at Villa Being.