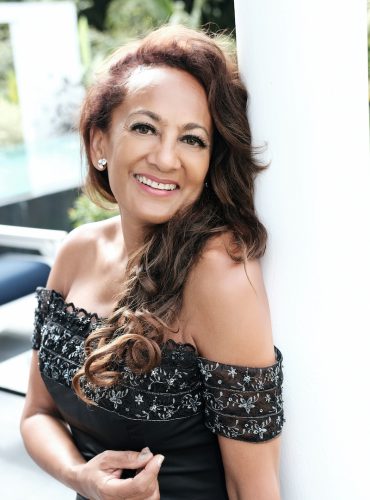 THE BRAINS BEHIND VILLA BEING. SHE IS THE OWNER AND MANAGING DIRECTOR. DR. POON BELIEVES THAT VILLA BEING IS THE 'CURE TO THE COMMON HOLIDAY'
Dr. Auliana Poon heads the Leve-Global Group of Companies (including Tourism Intelligence International, Villa Being, Being Sustainable and the Tourism Intelligence Academy).
Born in the twin-island republic of Trinidad and Tobago, Auliana Poon graduated with a B.A. (hons.) and M.Sc. (Economics) from the University of the West Indies, (Trinidad). She attended one of the leading European Schools, the Science Policy Research Unit at Sussex University (England), where she graduated with a D. Phil. (Tourism & Technology) in 1988.
Dr. Poon is a courageous and passionate businesswoman. She established Tourism Intelligence International in 1990; Villa Being Tobago in 1998; Being Sustainable in 2010; the Tourism Intelligence Academy in 2015; and Lévé – The Event in 2016.
Dr. Poon believes that the Caribbean cannot continue to compete with Sun, Sand and Sea alone. For success and sustainability, the Caribbean needs to be more people-centered, culture-oriented, innovation-based, technology-focused and talent-driven.
Built on her understanding of the global trends in travel and Tourism, Dr. Poon established Villa Being in 1998 as a 'cure' to common holiday. Dr. Poon wanted Villa Being to be more than a mere product or a philosophy. She wanted to develop a truly exceptional holiday experience created by a truly exceptional team. Her idea is to put the guest in charge of the experience and to deliver a perfectly tailor-made experience in an exceptional Tobago environment. The villa takes full advantage of nature, the climate, the sea, the natural ambiance and the local people. This is why Villa Being combines exceptional architecture, nature, scenery and complete privacy.
Sustainability is at the heart of Being. This is why we do not kill or remove the natural inhabitants – this is their planet too! We allow birds to build their nests wherever they want. We even have a small colony of friendly and playful bats living under one of our structures. They are all welcome.
DISCOVER BEING ESTATE VILLAS
PROPERTY MANAGER AND GUEST COORDINATOR. FROM BOOKING TO ARRIVING TO DEPARTURE, KEVON WILL COORDINATE ALL OF YOUR REQUESTS
Kevon Wilson is the man behind the scenes.  He is the oldest member of the team having worked with us for more than 15 years. Kevon graduated with Honours in Management and Finance from the University of the West Indies. He is also Senior Analyst at Leve Global, our parent company.
He brings international experience and flair to the team having worked on projects all over the world – including Mozambique, The Gambia, Germany, Dominica, Jamaica, Montserrat, Barbados, Antigua, Grenada, Dominica, the USA, the UK and others.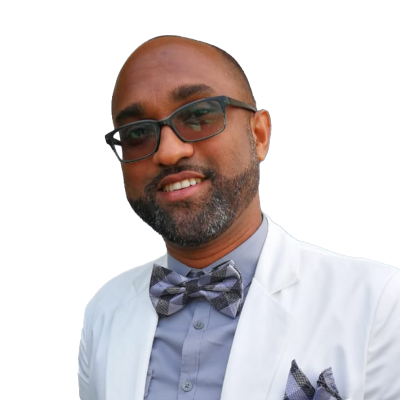 Kevon has a big heart.  He is talented.  He is a writer, analyst, singer and expert communicator.  He's cool, calm and collected.  For Kevon, every problem has a solution.  From booking to check-out, Kevon will ensure that your experience at Being is well organised and most of all, memorable. Whatever your needs, just let him know. He will ensure that our team puts everything in place to accommodate you as best as possible.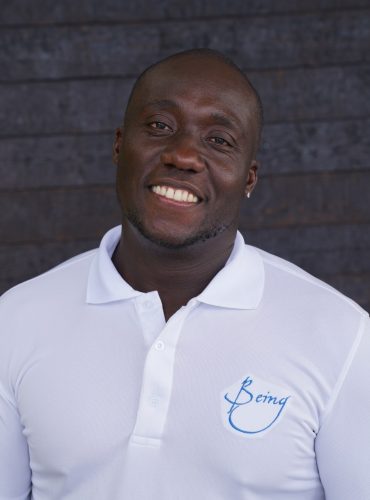 GUEST EXPERIENCE CAPTAIN - DEVERN 'DINGOLAY' WILLIAMS
Devern 'Dingolay' Williams
Devern 'Dingolay' Williams is the heart of operations at Villa Being, our eco-elegant vacation villa. A true Tobagonian, Devern brings his business acumen, authenticity, and down-to-earth persona to the forefront of his role.
His resourcefulness, unwavering drive, and knack for fixing anything contribute to the seamless functioning of our villa and the unique, tranquil experience it offers. Devern effortlessly connects with both our team and guests, infusing his infectious energy and love for Tobago's cultural richness into every interaction.
Experience Devern's passion for Tobago and commitment to excellence at Villa Being, making your stay more than just a vacation, but an unforgettable journey.
GARDEN AND GUEST NURTURER. LET WADE (A.K.A. CJ) TAKE YOU ON A TOUR OF THE GARDENS.
Wade Caruth, fondly known as CJ, is our Guest & Garden Nurturer. He is truly a son of the soil. Born in Tobago, CJ's first love is gardening. Whether it is planting fruit trees on our 11-acre organic estate, or picking herbs, CJ loves to get his hands in the soil. His background is in organic agriculture. He has been trained at the University of the West Indies, one of the top 50 Universities in the world. He also attended one of the best programmes in India.
CJ's dream is to transform his passion for nature into profits. He's started an agri-business venture and is a member of the Tobago Agricultural Society, where he plans to influence how farming is done in Tobago.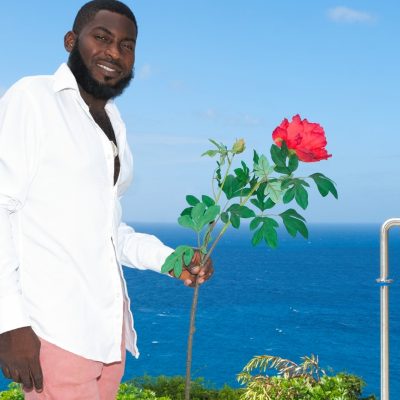 CJ's passions don't end with nature. He's also a very talented musician.  Whether it is Open Mike Sundays, or chilling on the block with his 'brethren', CJ's lyrical prowess can stand up to any singer/songwriter. His conscious lyrics and heartfelt emotions displayed on stage exude a positive energy that dares to change the world and influence the youth of Tobago.
CJ's love for nature, passion for organic and natural farming and his genuine care and concern for others, is a perfect fit with Villa Being where sustainability is at the heart of who we are.
CJ says that working at Villa Being is like "living in a painting".  The vibrant colours of nature married with the exquisite architecture inspires CJ who sees his role as "adding to the masterpiece that is Villa Being".
Meet Tinelle Roberts, the heart and soul of Villa Being's day-to-day operations as our Head Housekeeper. A mother, cook, businesswoman, and a true gem of Tobago, Tinelle embodies the warmth and authenticity we hold dear at Villa Being.
Tinelle balances her varied roles with grace and tenacity. Her cooking prowess is recognized far and wide, and her local hand-pressed juices have become a favorite among visitors to the island. Each juice is a testament to her commitment to quality and her love for the local produce.
Her entrepreneurial spirit shines through her thriving juice business, demonstrating her knack for identifying and seizing opportunities to delight those around her.
As the Head Housekeeper, Tinelle brings the same dedication and passion she applies to her personal ventures. Her pleasant demeanor combined with an eagle eye for detail ensures every corner of Villa Being is kept in pristine condition. She sets the standard for the meticulous care we put into creating a serene and comfortable environment for our guests.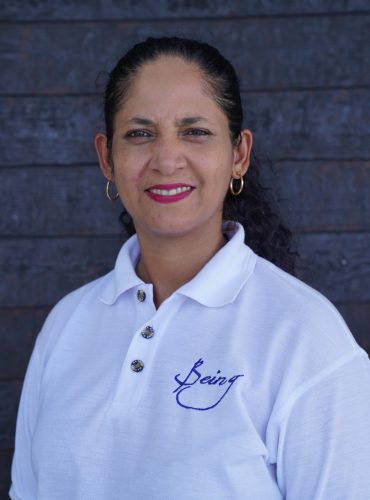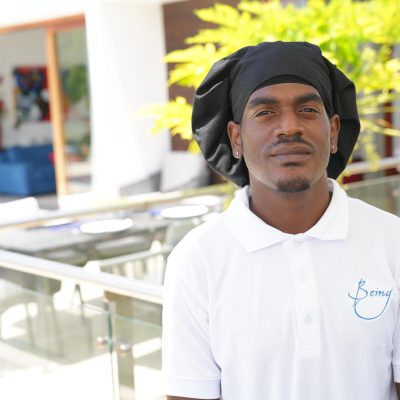 TAKE YOUR TASTE BUDS TO HIGHER HEIGHTS
Meet our resident Chef Nigel Alexander, a man who knows his way around the kitchen.
He has a hearty love for food and for the local Tobagonian culture. Nigel combines these passions, creating dishes that not only delight the taste buds but also tap in to the authentic Tobagonian vibe.
Nigel's skills lie in his ability to take simple, locally-sourced ingredients and turn them into outstanding dishes. It's not just about looks – his dishes are as pleasing to the palate as they are to the eye.
What sets Nigel apart is his commitment to creating authentic, local experiences that don't compromise on taste or health. His recipes are proof that eating well can also mean eating deliciously. Come and taste for yourself at Villa Being, where Nigel's culinary creations are sure to inspire you.
Down-to-earth and approachable, Tinelle treats Villa Being as her own home, ensuring every guest feels welcomed and pampered during their stay. Her commitment to excellence and authentic Tobagonian hospitality makes her an integral part of our Villa Being family.